Elevators
We offer customized solutions for commercial and residential spaces engineered and designed to comply with ASME A17.1 (American Society of Mechanical Engineers)
For assistance with design placement, hoistway construction services, job-specific elevator plans and customized options, contact us today.
Lu/La Elevators (Limited Use/Limited Application)
All Lu/La Elevators are limited by speed, travel, rise, and capacity, and are designed for low rise and low occupancy building. Being fully automatic in operation, they have the look and feel of larger commercial elevators but provide a compact size when a traditional passenger elevator is not feasible or required by code. When 50 feet of travel and six stops or less are needed, this conveyance is an excellent solution for use in educational settings, places of worship, multi-family housing units, libraries, and more.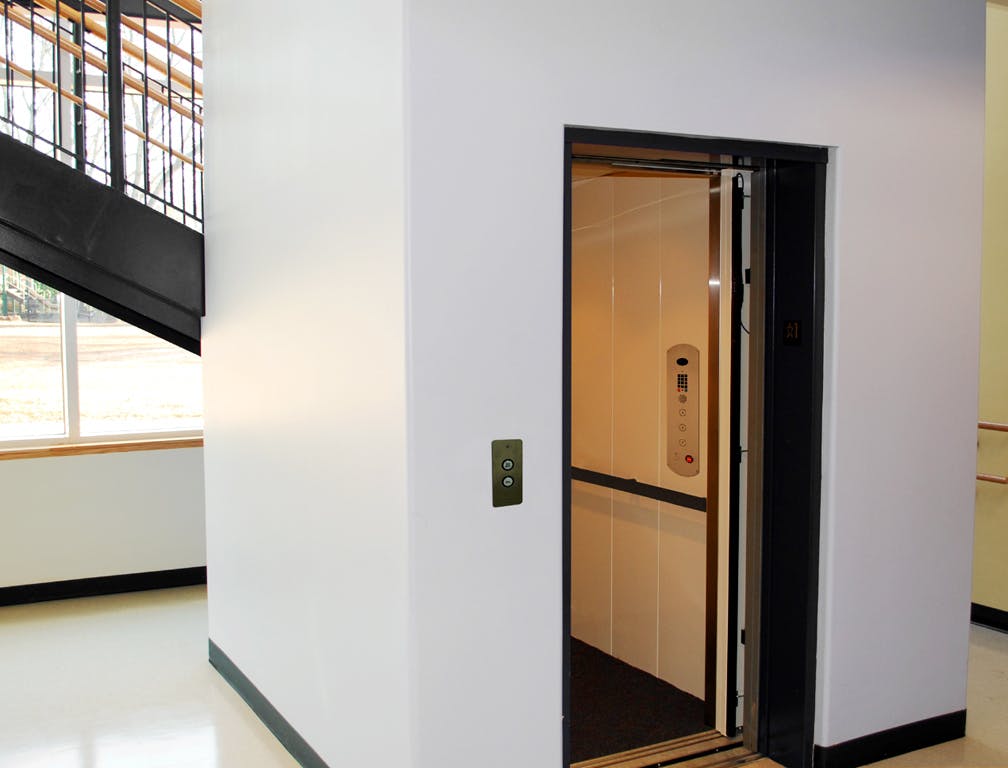 A residential elevator can help with the movement of people and items from floor to floor while providing a safer and more convenient environment. Once considered a luxury, elevators have become more affordable and add resale value to the home. Safety features are standard on every unit, and additional features such as light curtains, key switches or keypads to disable the elevator, and automatic sliding doors are available.
With all the customizable options available, we can guide you through the process or work with your architect or builder with choices for your drive system, cab style, interior fixtures, metal, woods, doors, and gates.  Voice annunciators and specialty fixture items are also available.
---
Hoistway Construction
Typically hoistways are configured as a single opening, a 90-degree opening, or a pass thru, straight opening. Job specific elevator or lift plans are a must to ensure accurate requirements for your project. We're here to help with the process.
Our construction background makes us uniquely qualified to construct your hoistway. Additionally, knowing the mounting points of the elevator equipment allows us to reduce time and expense when moving to the installation phase.
---
Accessibility Lifts
Activities of daily living can be challenging, when mobility is an issue, but we're here to help you evaluate, explore options, and remove barriers. Providing safe, reliable access is our goal for both commercial and residential clients, whether inside or outside, and each is assessed on a case-by-case basis. With our customizable selection of ADA compliant lifts, and the knowledge of current local code requirements, we can assist in making your entire home or facility more usable for people who have difficulty managing stairs.
If areas of your home or facility need accessibility, get in touch today!
For people with limited mobility in public and private residential settings. Both practical and economical when stairs are a barrier. Customizable options to blend with your architecture.
ADA Compliant. Whether your space requirements call for enclosed, unenclosed, a shaftway, or a hybrid lift, we offer industry-leading lifts compliant with ICC A117.1 and ASME A18.1.
Designed to provide accessibility for people in wheelchairs needing to travel up and down straight or curving stairways. An optional seat is also available to extend use to a person with impaired mobility not using a wheelchair. Meeting ADA guidelines the lift offers design options with little to no modifications to the building structure while removing the barrier of stairs for residential and public applications.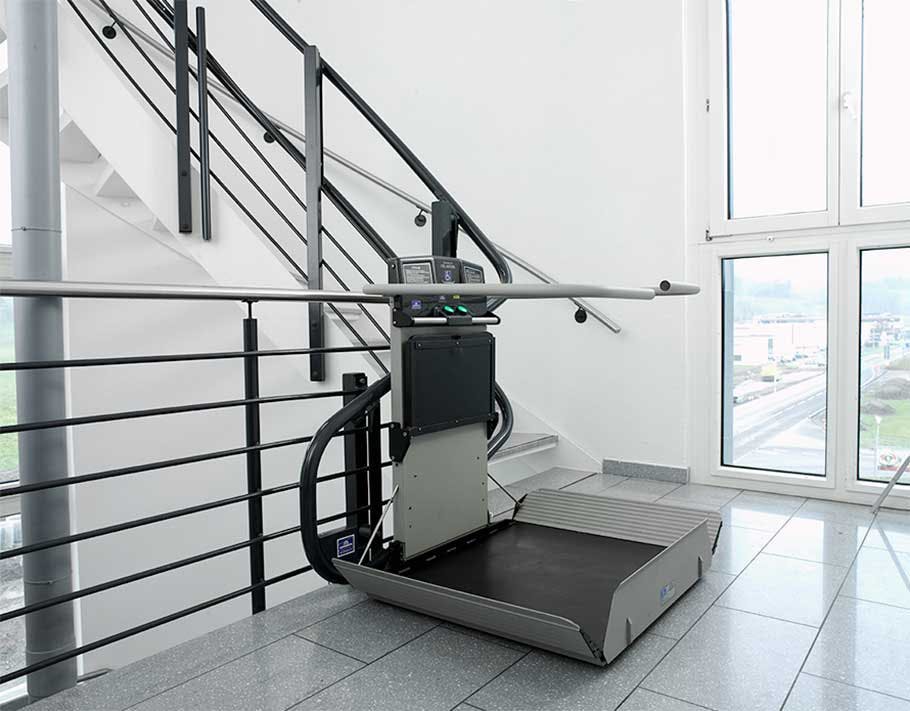 Both Title II (public industry) and III (private industry) entities are required to provide "accessible means of entry for pools" - Our pool lifts help ensure everyone can get in and out of the pool safety.
---
Through-Floor Home Lifts
Unique through-floor home lifts - space-saving and customizable with optional styles, colors, and finishes requiring minimal construction. 
---
Stair Lifts
Knowing that you can feel safe going up and down your stairway brings you and your family peace-of-mind. With a stairlift, you can regain the independence you may have lost and stay in the home you love. Whether your stairs are straight or curved, indoor or outdoor, an in-home visit to survey your stairs and discuss what would best suit your needs is the best way for us to recommend the right chair for you since every staircase is different.
A keyed operation is part of our public building package for using a stairlift in a public setting. Meets ADA compliance.
---
Dumbwaiters
A great labor-saving tool for transporting items in the foodservice industry, as well as residential and commercial settings. Designed to service 9 floors up to 75' of travel.
---
Material Lifts
Innovative designs, compliant with ASME B20.1 for light commercial to heavy industrial applications, for your Vertical Reciprocating Conveyor (VRC) needs. Safe, reliable solutions for Casket Lifts, Trap Door Lifts, Loading Dock Lifts, Vehicle Lifts, Maintenance Lifts, Storage & Retrieval Lifts.
---
Commercial
Planning and installing a commercial elevator or accessibility lift doesn't have to be a difficult process, we'll help in the planning with the supply of specifications, CAD or Revit drawings, and configuration information. We're knowledgeable about state and local elevator safety codes and we'll work with your project/facility management team to coordinate your installation.
Many customizable options are available to meet your specifications and enhance the design of your facility. Office/retail spaces, restaurants, government offices, healthcare, courtrooms, places of worship, and more can benefit and add value to their buildings with the added assurance of safe, dependable vertical transportation for those that use their space.
Residential
Whether you need the convenience of being able to move items such as groceries or luggage from one floor to the next, or the peace-of-mind that you or a family member can easily access all areas of your home safely, we can help provide a barrier-free solution.
Our home elevators can be customized to blend with your home's style and décor, and our accessibility lifts offer a choice of colors and finishes to choose from, making it your own, as well as purposeful.
We provide hoistway construction and elevator installation as a turnkey job. If you're already working with a design/build team, we'll coordinate all phases of the project supplying specifications, CAD or Revit drawings, and configuration information for all our elevator and accessibility lift systems.
Contact Us
Get in Touch Today!
We are passionate about what we do. Our ultimate goal is to provide mobility for commercial and residential applications. You can count on us to meet all your elevator planning, installation, and maintenance needs.
email: moc.rotaveleciretoen@snoitulos
P.O. Box 5614
Charleston, WV  25361
Call: 681.230.2700